CAMPFIRE COACHING: FUTURE DATES TBD
ADIRONDACKS, NY
Spend it outdoors rather than indoors

Let nature do its work

Enjoy the serenity and adventure of camping in a more luxurious setting

Connect with other awesome women

Get away from it all and decompress

Tap into beauty and joy again and see ho you can bring that back with you into your daily life
Spend time staring into a campfire while enjoying freshly prepped meals

Take time to BE YOU out in the glorious world

Tap back into your centered, quiet place

Make space

Break routine

Find new perspective on what it is that you really want and the next steps to get there
Feel your body and soul soften as you take deep breaths of fresh air, connect with the quiet of the outdoors, and rediscover what is most important to you
Unlike many weekend retreats, this one is less about adding more TO your life and more about simplifying. The goal here is to strip things away, put you back in touch with nature and who you are when you let yourself step away from the everyday and slow down for a bit.
I know that taking a weekend off for yourself is a hard sell.
You have people to take care of, business to run, closets to organize, school to get ready for, roles to fill. The idea of running away to CAMP for a weekend sounds both glorious AND kind of crazy....which is exactly a reason to do it.
I want to share with you that all of the
above reasons, while very real and
difficult, are not unique.
Getting away, taking a break, letting nature do its work and CAMPING can BRING YOU BACK TO LIFE, setting you up to be even a bigger, more productive and happy player in the life you're leading at home.

Campfires soothe the soul, and you could use some soul soothing right about now.

This isn't the camping from when you were a kid. We're talking canvas "cabin" tents, comfortable beds, wood burning stoves, and contemporary rustic designed interiors and lush furnishings surrounded by nature

You have no idea what you're going to discover about yourself while here, which is exactly why you should come.
Campfire Coaching
A weekend retreat for awesome women who want to slow down, take some time for themselves, connect with other amazing people, get a big dose of killer coaching and mental-space opening, all at a beautiful, all inclusive authentic Adirondack Glamping Retreat.
(And yes ... there will be s'mores!)
Two nights of glamping at Camp Orenda in the Adirondacks, including all meals and snacks.

The opportunity to take long hikes on winding paths and mountain trails, wade barefoot in cool streams, canoe on tranquil lakes or just gaze at the star filled night sky all while enjoying the sounds of the wild.

Killer conversation circles led by coach Allegra Stein where you can plan out big ideas and work through stuck thinking and overwhelm.

Private Coaching time with Allegra
Details
The camp is ours starting on Friday, June 8 at 1 PM until Sunday, June 10 at 11am.

All meals are included, including lunch on the 8th and breakfast on the 10th.

You'll be assigned to your OWN bed in 1 of 6 tents (options below)

Saturday will be day of optional hiking, canoeing, kayaking, archery or mountain biking, as well as guided coaching and conversation circles. You can choose to stick around camp to read or head out to explore on your own.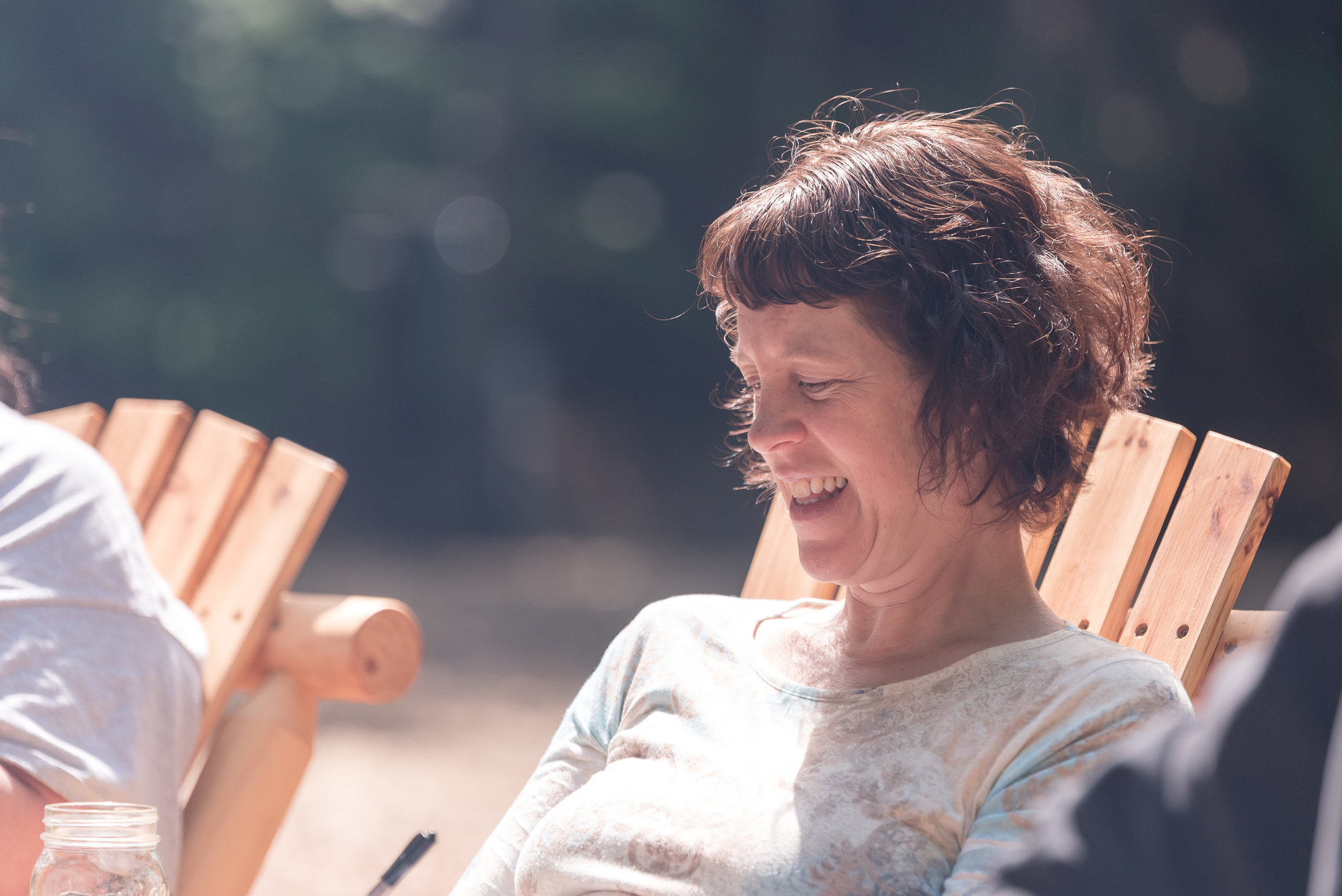 I decided to come Campfire Coaching because of Allegra and the energy she emits and attracts. I knew it would be a gathering of bright, strong women looking for focus and that Allegra with her soothing words of logic could help us achieve goals we would otherwise believe unachievable.
This weekend is a time to just be yourself. It's perfect for someone with a lot of ideas who doesn't know how to implement them.
I went there thinking that I didn't have much to address/discuss/think about and I left with goals that I didn't realize that I had floating around. Kind of like a thought tornado where it's all willy nilly at the top and comes to a point at the bottom.
I also left feeling as though I had some sort of connection with each and every woman there. I've never experienced that before.
Schedule and Accommodations
Accommodations and Rates
Whether you prefer to to share a bunk with your soon-to-be BFF or would like a little more privacy, we have accommodations for every type of camper!
Shared transportation can be arranged via carpool
SLEEPS ONE
2 available
Nestled among the trees, you will have enough privacy to feel like you're really in the backcountry.
SLEEPS TWO
4 spots available (2 double tents)
These canvas cabins have a queen and a single bed arrangement. Spacious and surrounded by the tranquil woods.
SLEEPS THREE
6 spots available (2 triple tents)
The Canvas Cabin Lodge Cabin has a spacious interior. The Lodge is close to the hiking trails, archery course and has easy access to the bath house. The early sun catches the Lodge which creates a very warm, welcoming feel.
The double and triple cabins would be perfect for a group of friends OR can be shared by solo travelers!
About Camp Orenda
The perfect spot for a beautiful backcountry getaway
At Orenda you will be able to enjoy a safe and comfortable back country adventure in the beautiful Adirondack State Park, while lodging in custom made Canvas Cabins that offer you all the comforts of back country living.
Orenda is an all inclusive authentic Adirondack Retreat, nestled amongst 40 acres of lush back country. An authentic Adirondack getaway, Orenda is ideal for outdoor enthusiasts of all levels, couples and for those looking for a more authentic outdoor environment.
Orenda provides you an opportunity to leave the hectic pace of everyday life behind to simply relax and enjoy the peace and serenity of getting back to nature. Take long hikes on winding paths and mountain trails, wade barefoot in cool streams, canoe on tranquil lakes or just gaze at the star filled night sky all while enjoying the sounds of the wild.
Create your adventure; with private Canvas Cabins, each uniquely located in their own private natural setting throughout the rolling terrain of Orenda. Here you can relax and enjoy contemporary rustic designed interiors and lush furnishings while being surrounded by nature. Each guest will have more than enough personal space and ample activities to enjoy the beauty and serenity of the retreat while accessing the backcountry of the Adirondacks at your leisure.
All our guests will enjoy dining throughout their stay with our tastefully prepared back country cuisine.
Rain or shine, we are looking forward to creating an unforgettable Adirondack experience for you.
The Campfire Coaching weekend has the perfect balance of real-talk coaching and peaceful nature relaxing, adventure and quiet. You choose.
Friday
1-3 PM - Welcome and settle in

2PM - Lunch served

3PM - Welcome Coaching Circle

5PM - H

ors d'oeuvres

7PM - Dinner, Drinks, Campfire Magic
Saturday
7 - 10 AM - Breakfast Available
(lunch orders in by 10:30 AM)

Morning Coffee 1:1 Coaching Conversations

9 - 10 AM - Coaching Circle

10 - 2 PM - Open Time: Hike / Bike / Adventure / Chill

2 - 4 PM - Quiet Time and 1:1 Coaching

5 PM : Archery Hour

7 PM : Dinner

Evening : Evening eating, refreshments, campfire sitting, bonding, Burn This Thing
Sunday
7 - 10 AM - Breakfast Available

Morning Coffee 1:1 Coaching Conversations

10 AM - Morning coaching / conversation circle

11 AM - Check out
About your host ... Allegra Stein
I'm Allegra Stein - Adventurer, Wife, Mom, and Coach to Inspired and Overwhelmed high-performers.
Trained under Brooke Castillo of the Life Coach School, mentored by Master Coach Joyce Campbell, and inspired by the work of Steve Chandler, Michael Neill, Jamie Scott, Tara Brach and more, my coaching incorporates elements of powerful Thought Coaching, NLP, and Three Principles understandings.

My clients have for the first time taken vacations and left their cell phones in their hotel rooms. Started saying "No" to draining requests of their time and energy. Created movements. Written books. Moved across the country. Redefined, committed to, and taken action to create what they most want.

How'd they create such monumental shifts? Not by adding any more to their already full plates, but by being willing to create space in their lives and in their thinking for their own wisdom, creativity and well-being to shine through.

Much like a lead spelunker shines light into the corners of the darkest caves to reveal their true, hidden beauty, my coaching is designed not to add more to my clients' lives but to show them the capacities that are already there.

My clients have a beautiful willingness to see fear and excitement as a beacon to walk towards rather than a warning light to avoid. My people are up to big things - on both their internal journey towards self-awareness AND externally in what they want to do and create in the world. Through powerful conversations, my clients' willingness to experiment with new ideas between our sessions, and the Unlimited Coaching I provide through the length of our work together, my clients experience an internal shift and centering without compromising their love of external action and project creation.
I decided to go Campfire Coaching Because I know Allegra rocks and that she would make it amazing. And, who can resist glamping?? I was also excited to get away from it all for a couple of days.
The whole weekend went by too quickly. The schedule was perfect. Not too much, just enough group activities and NO pressure to do anything you didn't want to do. I was surprised by how much I loved all of the ladies that I met and how quickly we all bonded!
Campfire Coaching is perfect for someone who is feeling overwhelmed and rushed through life. It's a weekend to slow down, disconnect from the world and reconnect with yourself.
When Allegra and I reconnected and started working together again I was feeling afraid on some levels to actually move forward with that I really wanted. Allegra is a trusted sounding board. She isn't the kind of coach that often tells me exactly what to do. Instead, she listens to what I'm going through and comes back with strategies for me to work on regarding said struggles. You know how when you take a shower and the bathroom mirror ends up all foggy, then you go to put on makeup or brush your hair? You can see the outline, a blurred image of what you look like. Allegra's sort of like the hand that wipes away the fog so I can see myself more clearly.
I trust Allegra, and when we work together, I end up feeling more effective and confident.
- Steph Gaudreau, s
tupideasypaleo.com
Is Campfire Coaching Right for You?
You're ready for Campfire
Coaching if you are...
Inspired by the outdoors and looking for some down time amongst the trees

Done making excuses about why you can't get away for a few days

Ready to spend some time working through your big ideas and figuring out next steps

Excited to connect with other awesome campers and share in some fresh thinking together
Campfire Coaching isn't for you if ...
Deep down you thinking spending a weekend Glamping isn't what you need right now

You are skeptical that spending time in the outdoors is good for your spirit

You'd rather have all of the comforts of home that weekend!
There are only eleven spots available
so act fast … you don't want to miss this!
Not ready to join us this time? Click here to stay in the loop for future Campfire Coaching events!
FREQUENTLY ASKED QUESTIONS
What airport should I fly into?
Albany Int'l Airport is the closest, most connected airport, or you can fly into JFK or Newark and make the drive up from the NYC area. Please reach out to me directly if you need help coordinating travel and I'll connect you with others who might be looking to carpool or share a car rental.
What time does everything begin?
Camp Orenda is ours starting at 1PM on Friday, June 9, and lunch will be available that afternoon. That said, if you have to arrive later our first Coaching Circle won't be held until later in the afternoon and we can catch you up if you can't arrive until closer to dinner.
Can I come up on Saturday?
There is not problem if you want to come up first thing Saturday morning but the cost will not be pro-rated for the late arrival.
What kind of food will be served?
Camp Orenda provides all the meals and is willing to accommodate dietary restrictions. After securing your spot you'll be sent a detailed pre-camp questionnaire where you can list your needs. All non-alcoholic drinks are provided and you can BYOB.
Is the price all inclusive?
Yes. The cost includes two night accomodations at Camp Orenda, meals, non-alcoholic beverages, activities, Coaching Conversations and 1:1 sessions.
What are the accommodations?
There are 6 luxury tents with beds on site. Three with two beds, One with three beds, and two with single beds. There is a slight price difference between the cabins based on occupancy. If you will be traveling with a friend please note that on your intake questionnaire and you can share a cabin. If you're traveling solo I'll assign you a tent based on your preferences.
For more about the tents and facilities visit CampOrenda.com
Is transportation included?
No. you are responsible for getting to/from Camp Orenda, though you can reach out to me directly if you need help coordinating a carpool or co-travel with others.
What do I need to bring?
Comfy clothes, sturdy shoes. Depending on the weather you might want to bring wet-weather gear as we'll still try to go hiking even if it's raining.
What if I'm traveling with a partner - can we share a bed and split the cost?
Please reach out to me directly if you'd like to arrange alternative sleeping arrangements.